We offer you the chance to see dramatic results in a short amount of time,
with one on one support from the professionals.
At its core, exercise is all about movement – going to the gym and working just one muscle group is ineffective.
No prior fitness experience necessary.

2-3 times a week will make you fit.
A gym where everyone knows everyone and supports each other to push themselves.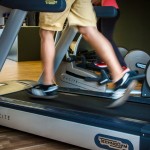 You could join a normal gym…
and get locked into a long contract:
Get a 6 week plan, do the same things week in, week out.
Without close supervision it's easy to accidentally misuse gym equipment and do more harm than good.
After a month or two you might have some nodding acquaintances.
If you're not bored enough, keep running on that treadmill.
.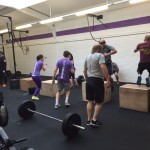 .. or join CrossFit Blackwater
A gym where:
You're welcomed in as soon as you step through the door.
You've constantly got experienced coaches giving you the right cues you need to help you progress quickly.
You get the results you're looking for faster than you'd expect.
You're not tied into a contract, but you keep coming back for more because you're enjoying it too much.
A few reasons why we do CrossFit:
Everyday Strong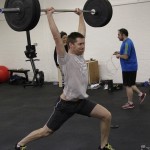 Strength and endurance for the 101 things that life throws at you:
Shopping.
Swinging kids.
Gardening.
Robot dancing.
Sawing, getting into lofts…
Confidence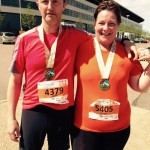 Confidence and pride in your body.
The will power and perseverance to tackle ANYTHING.
Rude Health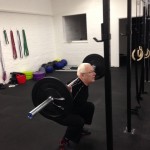 Stack the odds in your favour:
Denser bones.
Stronger muscles.
Healthier heart.
Lower blood pressure.
Become less out of breath (Better VO2 max).
Comradery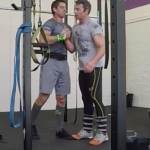 Most of all:
Great atmosphere.
A welcoming community.
We keep encouraging and coaching you so you keep progressing and achieving.
Who knows where you'll be in a year's time?
Help Us
If you have or have had any injuries or medical conditions, please TELL US – we don't want to turn you away – we tailor our programing to you.
We are more than happy to talk with your doctor or physiotherapist – we want you to become the best version of you.
Try CrossFit for yourself:
Book onto a free taster session to experience CrossFit for yourself:

Book my free taster!


Already sold? See Membership Deals

Testimonials
Top workout with top coaches. If you're new to CrossFit this box is perfect, they take you through every movement step by step and encourage you to progress at you own pace.
– James
After my partner who has trained with Crossfit for 16 months and has the most amazing figure thanks to Christine.
I decided to join and I must say Christine is an outstanding trainer, making it so easy to enter back into training. Thank you
– Doug
You get to train with Scott Jenkins, need I say more???
– Victor
Awesome box with quality coaching. Highly recommend it
– Gareth