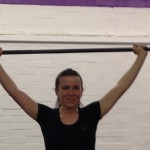 Are you fed up of feeling lethargic and lacking in motivation? Do you want to change your body, health and mindset for the better? CrossFit classes provide the perfect opportunity to begin your journey to a better and happier you. Here are 7 of the ways we believe CrossFit can make you happier in your day-to-day life.
You can measure your progress. Unlike running on a treadmill at your regular gym in Essex and feeling like you're not really getting anywhere (literally!), at our CrossFit gym you can keep track of your PBs, WOD times, or decreases in body fat percentage. There is a fantastic sense of satisfaction knowing you are improving and on your way to achieving your goals.
It translates to everyday life. CrossFit is based on functional movements that we use day to day. Whether it's picking up your kids or carrying heavy shopping, you'll notice how everything becomes easier once you start training.
You become a member of a great team. There are no age, weight or fitness requirements at our Witham gym. Our CrossFit trainers are available to anyone who walks through the door with a willingness to work hard and give each workout your all!
The camaraderie. Here at our CrossFit gym in Witham, you'll be surrounded by people who encourage and inspire you everyday. Unlike regular fitness classes where people tend to keep themselves to themselves, we like to know everyone by name so you're working out amongst friends. You can't help but leave our gym with a smile on your face!
It will get you in the best shape of your life. There is no other fitness programme out there that will get you to your goals like CrossFit will!
It's fun! Sure, it can be challenging at times and test your physical capabilities, but CrossFit keeps you on your toes and is always entertaining!
You are doing something great for yourself. Many of us are so busy with work and family commitments that sometimes we forget we need time for ourselves. Self-care is extremely important and CrossFit can be that one hour of "you" time, to de-stress and get those endorphins flowing. What's more, you'll have a great sense of achievement when you leave each session, knowing that you've worked your socks off and done something great for you!
So what are you waiting for? Why not sign up for one of our free taster classes to see how great CrossFit is for yourself? Our experienced coaches can guide you through the moves and how to adapt them to suit you; we always ensure that we never make anyone do something they aren't ready for. Step through the doors of Witham's premier strength and conditioning gym and you'll be wishing you joined earlier!