In the second part of my catchup with Scott Jenkins ahead of his trip out to Carson we talk about his training regime, diet and tips for getting ahead as a masters athlete. (read part 1)
Scott, you mentioned last time that you now work full time at your affiliate, CrossFit Blackwater in Essex.  How does your day look now?
I'll walk you through my day yesterday…
I had two breakfasts.
Two breakfasts? Is that normal?
No.  I have my longest training session on a Monday and I also had a class to coach before I trained, so I like to get a lot of food in me early!
The first time I did a 3 hour session I felt spent before the end of it and ended up sandbagging the last met con because I was physically tired and unused to the long sessions.  When I was still working in London and doing long hours I only had time for 1 hour sessions so my body was accustomed to 1 hour sessions.
So yesterday I did a 44 minute warmup: preconditioning, stretching, mobilising, empty bar drills.
44 minutes?  That's nearly as long as most people's training sessions?
Well I can afford the time at the moment – and I do faff around with the music so it's not all pure warmup.
Afterwards, a 10 minute snatch EMOM.  I'm working on consistency with my olympic lifts – yesterday I only dropped one so it was a good day.
Then snatch grip deadlifts, back squats, some metabolic conditioning including running, muscle ups and toes to bar and finishing with an EMOM of muscle ups and toes to bar.
What do you do after training?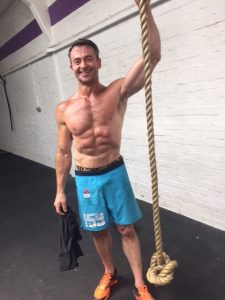 I should stretch – sometimes I don't.  I get easily distracted by conversation.  I'm always 100% focussed on my training but today I got chatting with somebody outside the box.  Business comes before stretching sometimes!
I go home in the afternoon for a bit of downtime and a nap before I return to coach 2-3 hours of classes in the evening.
This time of year is brilliant because Springwatch is on TV – my favourite programme.  I get to see how the blue tits are doing.  Sadly no sticklebacks this year – Spineless Si was my favourite Springwatch character ever!
I don't think many people would have you down as a nature lover?
I can name every British bird.  Not in order – you'd have to show me a picture.  Hopefully there'll be 5 rounds for time at the Games – 20 pistols OR name these 5 British birds!  That would be brilliant… Or a muscle up then recognise the bird call.
Tell me about your diet?
I've been told that my diet is pretty good.  I do make the mistake sometimes of telling my members at CrossFit Blackwater that I eat pretty much what I want – which is the truth.  But mostly what I want is a lot of MEAT!
I do have the occasional french bread sandwich with cheese, tomato and onion.  I don't have it every day but if there is a french loaf in the house I can't resist.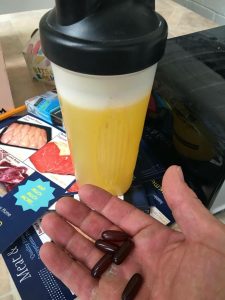 So you eat pretty clean – what about supplements?
Omega 3 at the moment.  I've started to take it consistently over the last 3 months and have really noticed a difference.  I have trouble with my knees – they get sore very easily but I'm able to squat twice a week now.  I still get discomfort but it's manageable.
BCAA's.  I didn't believe in them but I was doing these really long training sessions and struggling to recover.  Since I've been taking them I've noticed a significant improvement in my recovery.  I've been taking them since the Open and I've definitely moved forwards.
You mentioned last time that you are following Ben Bergeron's CompTrain programming.  Why are you using somebody else's programming when you do the programming yourself for CrossFit Blackwater athletes?
I programme the stuff I like too much for myself.  Whenever I'm in a bad mood or feel like I need a treat I programme muscle ups or handstand pushups or toes to bar or bar cycling.  I love a bit of bar cycling…
I like to wake up and have something to follow that makes me address all areas.  I'd been looking at Ben's programming for quite a while before I got on board and it's one of the only programming systems that I fully trust.  Ben has been around in CrossFit for a long time – he's done wonders with Katrin Davidsdottir.  Since she moved over to him last year she seems to have a new fire.  A lot of Ben's philosophy is about mental mindset.  That is an enormous part of CrossFit.
What do you think your mental game is like?
At the moment it's good.  I'm prone to a tantrum but I'm getting better at focussing it into my training now.  Injuries and niggles are the things that can really wind me up and put me off my game.
What advice would you give to people training away in their boxes, working hard and comparing themselves to elite athletes?
Train for quality.
Especially as a master – there is only so much wear and tear our bodies can endure.  Everything needs to be for a reason.
When you leave the box ask yourself "Did my training today make me better?"  If not you're doing something wrong.  If you are going into the gym and beasting yourself at the same things over and over again you may improve your engine a little but you won't be getting better as a CrossFit athlete.
Work on your strength base – don't constantly max and test lifts.
Practice skills outside of timed WODs – EMOM work is great for gymnastic skills.
Don't do three half hearted met-cons – do one, but do it right.  Get intensity into your training over volume.
Technique above all else.  Everybody is different but success and progress at all levels depends on establishing a solid base of strength and technique.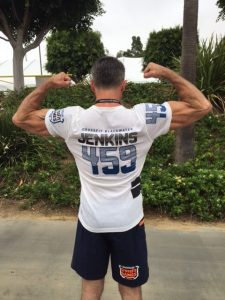 Thanks Scott for taking the time out of your day to chat with me.  I know I can speak for all the guys at CrossFit Blackwater when I wish you the very best of luck out in Carson.  We've all seen how hard you train and are looking forward to seeing you attacking the Games workouts in 2 weeks time!
(Read part 1 of the interview if you missed it)