"People come in asking, 'Where are all the machines?'
I tell them, "We ARE the machines."
– CrossFit HQ
Coach: Scott Jenkins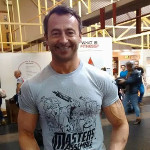 Scott specialises in coaching excellent movement patterns in both competitive and recreational CrossFit athletes and is an expert on competition strategy.
Read Coach Scott's bio
Coach: Christine Cope
Christine specialises in teaching people to safely and effectively add weight training to their training programmes. She is also highly experienced in modifying exercise programmes to accommodate different medical conditions.
Christine is a passionate believer that exercise should and can be accessible to everyone.