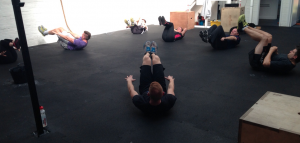 Tabatas are a great way to distinguish between the different thresholds we get during conditioning workouts. They test two very different beasts. The first variation is the breathy one, this could be tabata burpees, tabata box jumps or maybe tabata double unders once you can string them together well. The other kind is the lactic acid bringers or burn outs. Push ups are a great example of this. You're not breathing hard, you're not in any uncomfortable, tired state, you just cannot push out another rep… Not for 5-10 seconds anyway.  And of course one of my favourites – the tabata core hold tests mostly willpower.  I can see this as you all stare up at the clock wishing the seconds away.
Strength
Bench Press – 20-15-10-5
After each set hit a set of max strict c2b pull ups / pull ups / negatives / strict ring rows.
Conditioning
12 minute amrap:
10 Push Press 50/35
10 Toes to bar / 20 Sit ups
30 Double Unders / 90 Singles
Finisher
Tabata week continues…. Tabata KB Swings