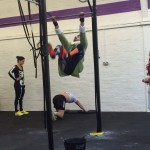 One of the most common excuses for putting off exercise is "I don't have the time!" However CrossFit for fitness can actually have positive impacts on all areas of your life – whether it's your business, work or family. Here are some of the ways our CrossFit classes in Essex can help you with more than just your squatting technique.
It's quick
Here at CrossFit Blackwater, we understand how busy our members are and appreciated that time can be a limiting factor. With CrossFit workout programs, all of our classes are based on high-intensity training for short periods. Instead of doing low to moderate activity for a long period of time, such as at your normal gym, you can opt for an intense CrossFit training session and save yourself a lot of time.
There's no planning involved
Busy people with jam-packed schedules constantly have to plan ahead and manage their time effectively. However at CrossFit Blackwater, all you have to do is show up! The WOD is posted and all the details are planned out for you. Any weights you use are selected based on your own physical ability – one size most certainly doesn't fit all! What's more, when you're doing an intense CrossFit workout routine, you won't be able to think about much else – giving your brain a well needed break from work.
You'll make friends outside of work
When you're spending around 40 hours at work every week, it's not surprising if the majority of your friends are colleagues. Of course it's great to form connections with your fellow workers, but it's also important to have friends totally unrelated to your workplace. Here at CrossFit Blackwater, we know everyone by name and love welcoming new members into our CrossFit community.
It's okay to fail
Most of us only want to try things that we're confident we can do. In our CrossFit gym in Witham, we don't expect any of our new members to be experts straight away! Our CrossFit trainers will guide you through all of the steps and help you to adapt your techniques. You'll feel a great sense of achievement when you learn new movements and reach your fitness goals!
You can measure your success
It's common to analyse stats during the working day, such as returns on an investment or customer reviews. CrossFit is just the same in terms of getting measurable results. Maybe you'll finish a WOD in 4:30 when you start out, but then a couple of months later you will do this same workout in 4:15. The growth in your physical ability is a great motivator and can be translated to everyday life.
Finding a hobby where you can test yourself outside of your working life is a great way to interact and grow. When you have a lot of responsibilities in your everyday life, it's important to find outlets where you can de-stress. Why not give CrossFit a go and see for yourself the improvements you can make to your life?
Get in touch to book yourself onto one of our free taster classes and break out of your "too busy for exercise" habits! We look forward to seeing you.