One of the most common problems I encounter is difficulty in taking on board sufficient protein to fuel training and recovery.
Depending on your goals and lifestyle you will probably need somewhere between 1 and 2 grams of protein per kg of bodyweight.  If you are a CrossFitter trying to build strength and hitting intense wods several times a week you are likely to be at the top end of this range.
So here are a few suggestions to help you start hitting your protein targets.
Plan your eating around protein.
Every meal is an opportunity to get some protein inside of you! Don't have bran flakes for breakfast, vegetable soup and a roll for lunch and leave yourself in the unenviable position of having to eat 3 chicken breasts, a tin of tuna and a protein shake for tea.
Eggs, cold meats, high protein yoghurt, leftovers from the previous evening are all great breakfast protein sources.  Think outside the cereal box – breakfast doesn't have to be conventional.
2.  Ban ready meals.
They aren't good for you in any respect.  They are full of preservatives, flavour enhancers and other chemicals and you have no control over what they contain.
From a protein perspective, meat is the most expensive ingredient in ready meals and you can guarantee that they contain far less than you would serve yourself from a home cooked meal.
3. Keep away from the cookie jar.
Junk food just isn't high in protein – period.
It's generally an addictive and moreish combination of sugar and fats – one digestive soon becomes the packet and, before you know it, you've eaten enough calories to support the lifestyle and training regime of a world's strongest man competitor – oh, except you still have 3 chicken breasts, a tin of tuna and a protein shake to cram in.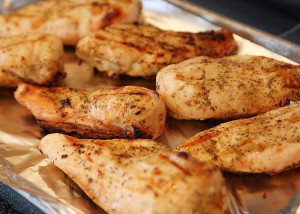 Do you want to eat them now you know that you've already overeaten?  Can you face eating them now you are full of biscuits?
Try eating your chicken/fish/steak and vegetables first – and THEN make a decision on whether you still want the biscuits!
4. Have some handy protein hacks to get your through the tough bits.
Here are a couple of substitutes for when the ice-cream monster visits…
Fancy some:
Ben and Jerry's Phish food (1/2 tub – who eats only one scoop?)
580 calories 8g protein/74g carbs/28g fat
Try instead:
Protein Yoghurt instant ice cream
261 calories 25g protein/41g carbs/0g fat
200g of Skyr (high protein yoghurt)
100g frozen raspberries
1/2 large banana (67g)
Whizz up in a food processor or with a stick blender
Fancy some:
Morrisons Chocolate Fudge Cake (1/8 cake)
344 calories 4g protein/40g carbs/19g fat
Try instead:
Chocolate Protein Mug Cake
311 calories 36g protein/7g carbs/15g fat
I scoop of Icon Evolution whey (molten chocolate) 32g
1 tbspn unsweetened cocoa powder (5g)
1/2 tsp baking powder
20g almond butter
2 tbspn milk (30ml)
3 tbspn egg white
1 tsp vanilla extract
Mix all the ingredients together, pour into a large mug and microwave for 45-60s.
1) Clean and Jerk programme
2) 5 rounds for time:

10 pullups
10 kettlebell swings 32/24k
10 box jumps 24/20″