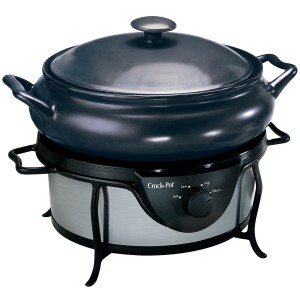 Now the clocks have changed and the evenings are darker and colder I have dug my slow cooker out of hibernation and am using it a lot more for batch cooking.
Batch cooking is the only way forward if you want to eat healthy, home cooked food at every meal and you have a job, a family, training to do… in short – a life!  Pick a quieter day, batch cook a couple of dishes and portion it all out into separate containers.  You can even batch cook some rice, sweet potato and vegetables.  Then you are done – several days meals ready to be microwaved at a second's notice!  You could even freeze a few for emergencies.
Back to my trusty crockpot – here's a slow cooker recipe I tried out earlier in the week – I was pretty pleased with how it turned out!
Slow cooker paprika chicken (makes 4-6 portions)
Slice 1 large onion and scatter over the bottom of the slow cooker
Slice 1 pepper and scatter over the onion
Place 800g-1kg of whole chicken breasts on top of the vegetables
Sprinkle 2 teaspoons of plain flour, 1 tablespoon of paprika, 1/2 teaspoon of cayenne pepper, some salt and pepper over the chicken breasts
Add 1 tin chopped tomatoes
Add a chicken stock cube or pot (I like the gelatinous Knorr ones)
Slice another pepper and sprinkle that over the top
Cook on high for 3 hours – after 1 hour give everything a good stir so the flour and spices mix in with the tomatoes and liquid to make a sauce.
1) Snatch programme
2) Rowing intervals