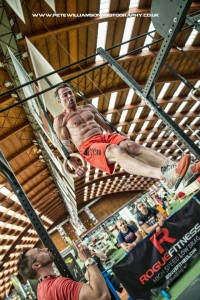 To many people the muscle up is like the 'Golden Fleece' of CrossFit. To some a distant wish and to others totally dismissed as something they will never be capable of. Today we are going to spend 20 minutes showing you all that as with everything we do it is totally accessible to everyone. Beginners get to learn the transition from the pull up into the ring dip, for intermediates this will be a great chance to get your first muscle and if not today get an idea of what you need to do to nail that first muscle up. Those with muscle ups already in there locker you get to see how much weight you can perform one with. Stuff a wall ball between your legs and go for it.
Bar Cycling
Power Cleans – 8-8-8-8-8
Aim to build to 8 reps touch and go.
Gymnastic Skills
Beginners: Muscle up transition practice 5 x 3 sets
Intermediates: Work on getting that first muscle up
Advanced: Weighted strict muscle ups
Conditioning
21-15-9 reps of:
Power Cleans 50/35k
Bar Hop Burpees