Review of 15.3
More mixed feelings about 15.3.  The triplet of muscle ups, wall balls and double unders has been a popular offering over the last few years.  The difference of a 7 muscle up opener ruled a number of us out of the Rx WOD immediately and prompted a few to wish that they had dedicated more time to practicing this skill over the last year!  The scaled (or over scaled imho) alternative was a 14 min low skill bootcamp effort of light wall balls and single unders.  Nevertheless it certainly exposed my current lack of conditioning!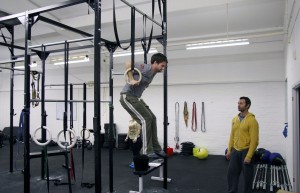 This weeks spirit of the open award goes to Matt C.  Despite being a bit tentative about his muscle ups, when he heard 3,2,1, go he pulled something extra out of the bag and ended up nailing 10 muscle ups in total.  Matt is also a really positive and encouraging personality around the box.  He always gets involved cheering on other athletes and offering words of encouragement.  Great work Matt!
Technique hound is Steve again this week.  Beautiful muscle ups even under pressure.
Most bizarre behaviour in a WOD goes to Gaz for the abnormal quantity of liquid he managed to consume in 14 minutes.
This was a tough week for the girls.  We all attempted to get a muscle up but only Sam was successful.  After getting her confidence going on the first attempt she came back on Sunday to score 14 muscle ups.  Her score on 15.3 is in the top 500 women in Europe – well done Sam!  Lindsey won the scaled WOD by a significant margin with her superior conditioning and speedy singles.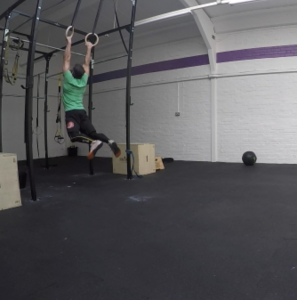 Scott continues his dominant performance in the 45+ competition.  Once again he place first in Europe leaving him in first overall in Europe and 7th worldwide after 3 weeks.
15.4
Same format as previous weeks.  What will come out of the hopper this time?
As always, questions and strategy advice available from Scott via Facebook and come down and join in the fun on Friday evening.