Review of 15.1
A week has passed since 15.1 hit us and it seems like a good time to review what went down at CrossFit Blackwater last weekend and the achievements of our community.
First up – the king and queen of prs.  Matt C for hitting a 52.5kg snatch pr and then doing 7 more and Lindsey for scaling on Friday because she didn't have t2b, learning how to do them over the weekend then coming back on Monday evening to nail 15.1 RX.  You guys embody the spirit of the open – pushing yourself further than ever before and achieving things that you never believed were possible.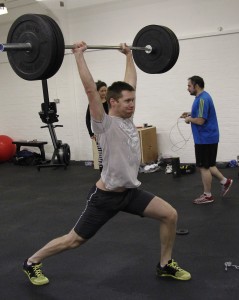 Technique hounds Matt W and Steve for executing beautiful clean and jerks on 15.1a even after monstering through 15.1.
Giles, Frances and Christine for all achieving clean and jerk prs albeit with a few animal noises and bar kicking thrown in – you know who you are…
Nutter of the week goes to Gaz – after misloading his bar and missing a clean he attempted to lunge it up from his knees. Enough said!
Big shout out to top girl, Sam – she comprehensively smashed all the other girls with her elegant t2b and ferocious engine.
And last but not least, Scott and Simon – who after an immense grandad face-off on Sunday lunchtime are now sitting in 1st and 3rd place respectively on the 45-49 European leaderboard.
It was an epic weekend – the box was absolutely buzzing with excitement and achievement.  So proud of all you guys – CrossFit Blackwater has only been open 2 months and we are sitting in the top half of the European teams leaderboard.  Now onto 15.2!!!
15.2
Same format as last week. Come along and join in the great atmosphere as we hit 15.2.
Last week we had a combination of a 9 minute amrap followed by 6 minutes to max out on Clean & Jerk. I am expecting a long one this week, possibly full of burpees, box jumps, wall balls and other lovelies.
Remember any questions all day fire them at me on The Blackwater FB page and I will help you out with tactics, decisions on weights or just advise when others will be there to cheer you on.
See you tonight.